Here are the details of our 22nd Annual Oktobeerfest, occurring October 6th - 9th.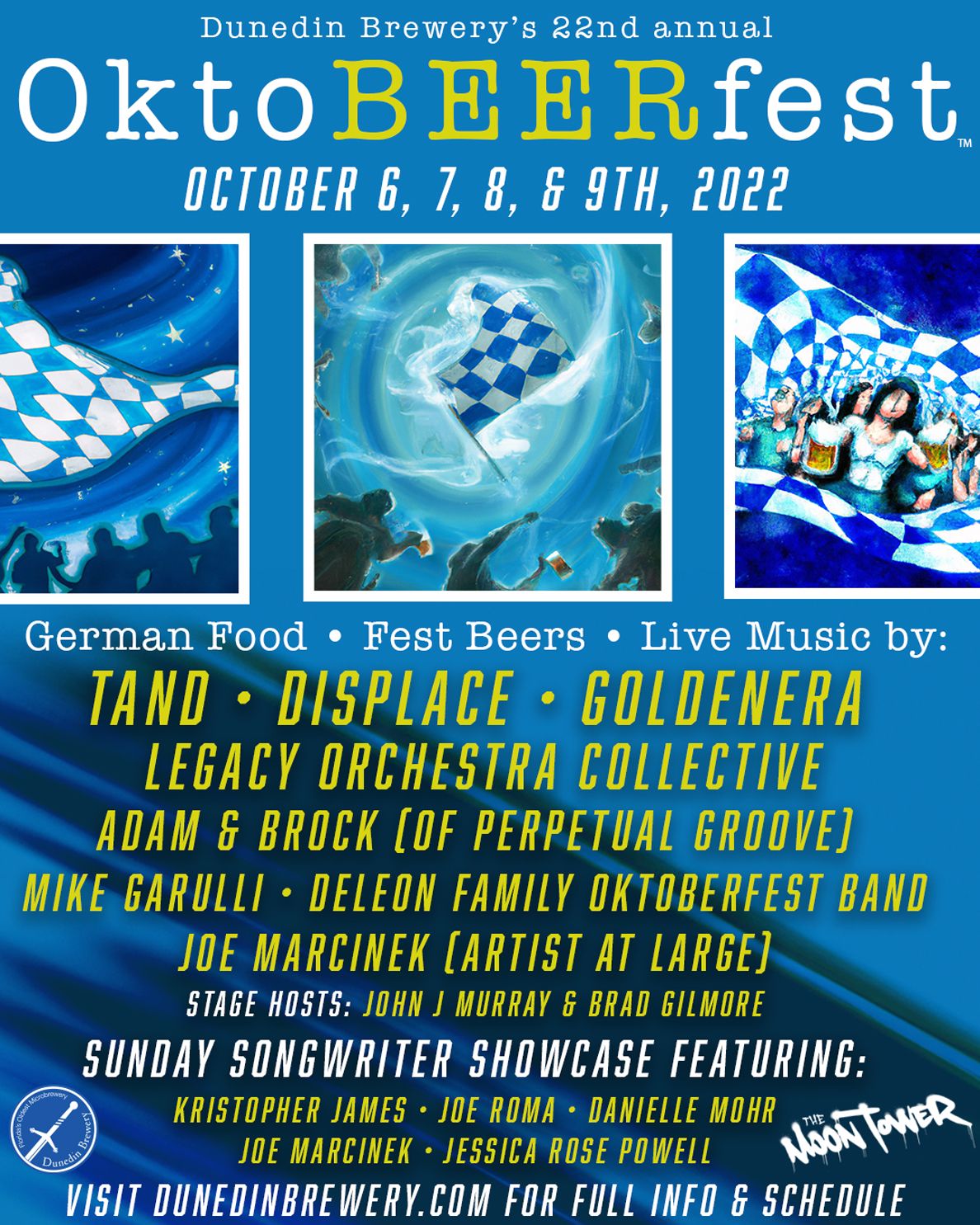 Things to know about Oktoberfest this year! 

 We are excited for the weekend and want to make things as clear as we can for everyone attending so that we can all have some fun and enjoy the weekend of live music, German food, and fresh beer. 
 Our traditional Oktoberfest food will be available for purchase at the Bavarian Kitchen inside the Moon Tower. We will have Schnitzel & Bratwurst. Dress your brat with traditional mustard & house-fermented kraut, currywurst, or a spicy jalapeño relish. Then grab some potato salad, rotkohl, spaetzle, or Big Mike's pickles to go with it. Or just enjoy a pretzel the size of your head dressed with either salt or cinnamon sugar. 
 If you're hoping for our famous chicken wings, we will have a limited menu at the main bar with wings, cheese curds, fried chicken & fries, pretzel bites, and hand-cut fries. 
 Beers & drinks will be available in three locations this weekend: the main bar, beer garden trailer, and cans at Bavarian Kitchen inside the Moon Tower. Freshly tapped today: Lemon Haze Hefe & Caramel Kush Dunkleweizen. 
 Litersteins have sadly been in decline since 2020, leaving us with a cache from last year's event large enough for us not to release one this year. That said, we have decided to "grandfather" all existing DunBrew mugs. We will have some 2021 vintage litersteins available for sale, and will come with a free fill at time of purchase. 
 Music starts tonight at 7pm with the one and only DeLeon Family Oktoberfest Band. Full schedule of music can be found on our website. 
 Special event shirts will be available Friday Night & all day Saturday via Kingdom Thread. Pick from two designs, and two shirt colors, or get one of each. 
Above all, enjoy yourself and the company of your friends, family, & community! We look forward to seeing you. Prost!
Here is the music schedule:

Thursday at 7pm: The DeLeon Family Oktoberfest Band

Friday at 7pm: Mike Garulli

Friday at 9pm: Legacy Orchestra Collective

Friday at 11pm: Tand

Saturday at 6pm: Adam Perry & Brock Butler (of Perpetual Groove)

Saturday at 8:45pm: GoldenEra

Saturday at 11pm: Displace

Sunday at 2pm: Sunday Songwriter Showcase featuring Kristopher James, Joe Marcinek, Joe Roma, Danielle Mohr, & Jessica Rose Powell


To stay up to date, follow us on Facebook, Instagram, or Twitter.