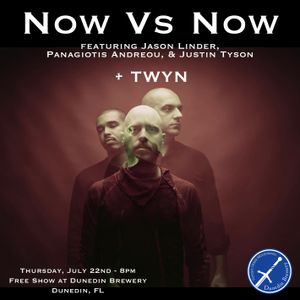 Now Vs Now is an experimental electro-live cyberwave band by Jason Lindner (composer, electronic musician, keyboardist on David Bowie's final album, Blackstar) with co-founding bassist, Panagiotis Andreou, and drummer Justin Tyson. 
Their new album, "The Buffering Cocoon" (Bugge Wesseltoft's Jazzland Recordings) contains the project's most ambitious compositions to date. Named in honor of a dear, departed friend who described the music as "a buffering cocoon," the album is a warm collection of futuristic, electronic music, which boldly cruises through vaporwave, analog synth-pop, modern electro-R&B and apocalyptic proto-new wave. 
Support set by TWYN of Miami, FL

Music starts at 9pm.