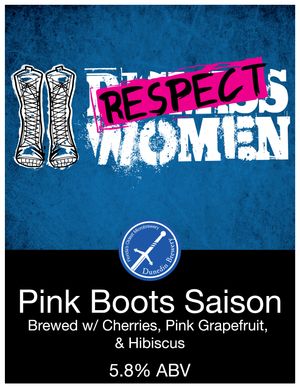 This Sunday, on International Women's Day (March 8th), we will release our Pink Boots Saison for Tampa Bay Beer Week
All of our female staff came together to brew this unique beer. Pink Boots Saison is brewed w/ Hibiscus, Pink Grapefruit, & Cherries--and utilizes the Pink Boots Society 2020 hop blend. 
Pink Boots Society is a beer industry group organized to ASSIST, INSPIRE, and ENCOURAGE women beer professionals through EDUCATION. Proceeds from all Yakima Chief Pink Boots Hop Blend sales go towards the Pink Boots scholarship fund. Many breweries will be participating in a collaboration brew day on March 8th to promote the existence of the Pink Boots Society on International Women's Day.
Cheers to the women of the world! 🍻