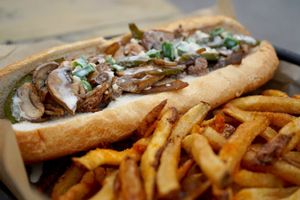 ? Philly Cheese Steak Returns! ?⁠ ⁠

This was a big hit a few weeks back, so we've decided to give the Philly fans in town something to talk about. ⁠ ⁠

The classic Delaware County original: 9" Amoroso roll w/ Philadelphia shaved rib eye, peppers, onions, mushrooms & our hot beer cheese. ?⁠ ⁠

$13, and comes with a choice of side. Report back and tell us what you think!