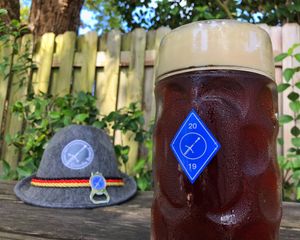 ...for a chance to win a 2019 Dunedin Brewery Literstein, Bavarian Alpine Hat, & Bottle-Opener Keychain. Winner will be drawn & announced on our Facebook Page, Thursday (10/3) around 12-Noon. 
Thursday is both the start of Oktobeerfest 2019 at Dunedin Brewery (Oct 3-6) & our Literstein Heritage Night, when our new 2019 Literstein Mugs go on sale, entitling the bearer to discount fills through next year's Oktobeerfest Celebration. Additionally, this evening, we both honor and encourage the filling of all-vintage DB Literstein Mugs. Fills are priced at $8/$10 for Standard/Specialty Beers (<8% ABV, w/ American Classic IPA at the Specialty tier). Live Music by Row Jomah starts at 8pm. Our Tasting Room will be closing at 5pm and will re-open at 7pm in preparation for sales and event entry. Last call for Food is at 4pm, and Drinks at 4:30pm. 
*LITERSTEIN SALES: Our Purchase line will form on the sidewalk, starting at our driveway, and extending north toward Skinner Blvd. There will be a Non-Purchase entry line available for patrons bringing their own mugs to the event. If you plan on buying a Literstein, you MUST wait in the purchase queue (any person changing their mind later will be re-directed to the end of the line). Mugs are $40 each, with the first fill on-the-house (must be redeemed at time of purchase, limited to 1x per person). Our stock is more limited than past years, so arrive early to secure your purchase. Happy OktoBEERfest! ?