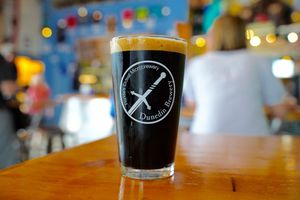 "It's a fictitious person," said Dave Korman. "I basically tell people I'm Leonard Croon." 
In the mid-90s, the Leonard Croon Band, fronted by Dave Korman, played all over Tampa Bay, including several gigs at Dunedin Brewery. By 1999, founder Michael Norman Bryant had an idea that he thought might help support at least one local artist. That idea was to brew their own beer, which we now traditionally brew once a year in February.

Leonard Croon's Old Mean Stout is a robust oatmeal stout with notes of roasted chocolate, coffee beans, and deep caramel undertones. It pairs nicely with BBQ and rich dark desserts like chocolate cake.

Come by the tasting room for a pint, or grab a 32oz crowler to-go!